http://larock.co.uk/wp-content/uploads/2010/08/la_rock_the_lawrance_competition_entries_may_2010.pdf Tonight, I'm cooking just for me. I don't have my kid or sweetheart to feed tonight and I am totally okay with that. It might have something to do with my introverted nature.
buy Ivermectin 3 mg It wasn't always so easy though. For a very long time I didn't feel it was worth while to cook a meal just for myself. When I began to embrace my need to be home and to be alone to recharge I realized part of that includes feeding myself. I mean actually nourishing myself, not just have a bowl of cereal because my body needs food.
It can be a challenge to cook for just one. My goal is not to have much in the way of cooked left overs because it usually doesn't get eaten, and remember, my biggest pet peeve is food waste! To avoid an exorbitant amount of cooked left overs, I like to break down my vegetables into  small portions and only cook what I need at the moment.
Vegetable sautes and stir fries like this Cheesy Mediterranean Vegetable Saute are great for adjusting the portion sizes. The key here is making sure all of the vegetables are cut as close to the same size and shape as possible. Not only does this help for even cooking but also for visual appeal (we eat with our eyes first) and also what some chef-y types call "mouth feel." If the pieces are all different sizes you might feel and taste one more than the rest.
For this recipe we're going to quarter the radishes and mushrooms. Since this dish is all vegetables we want them to be large enough that you can really see them. Also, quartering is faster and I was hungry.
When quartering your mushrooms remove the stems. They are a bit woody and difficult to cut to a uniform size. You can throw them away if you like or you could collect them in a zip lock bag to make home made vegetable stock later. Another option is to compost them!
Red bell peppers are naturally very sweet especially when they're sauted. Cut them into strips first and cut out the white membrane that connects to the seeds. These membranes don't have much flavor.
Since this Cheesy Mediterranean Vegetable Saute is a small plate for just one we don't need a whole yellow squash. Cut your squash in half then cut the thinner half in half again length wise, then quarter it length wise. You'll then have uniform sticks that you can dice into about 1/2 inch pieces, or as close to the same size as the rest of the vegetables you've chopped. You can save the other half of squash in a zip lock bag for 2-3 days in the refrigerator.
I love cooking with safflower oil because it has a neutral flavor and can be heated to very high temperatures before it burns making it great for a Cheesy Mediterranean Stir Fry!
Some vegetables cook down more quickly than others. Radishes and squash are more delicate than bell pepper and mushrooms so you'll want to start with the bell peppers and mushrooms. All of the vegetables in your finished dish should be al dente. The literal translation of al dente is "to the tooth" in Italian. You've probably heard pasta referred to as al dente. It just means the food is cooked so it's tender but still slightly crisp. Vegetables can and should be cooked to al dente in most situations.
I have a hunk of fontina cheese and I certainly can't eat all of it…well I could (notice the bite), but it's probably not the best choice. The best way to store cheese is to wrap it in parchment paper. You can just fold it up like a gift. Also, tape doesn't stick to parchment (tried it) so don't worry about what it looks like too much.  Then wrap it in a layer of plastic wrap.
I served my Cheesy Mediterranean Vegetable Saute with basil and herb pearl couscous. You could use whole wheat pene pasta or brown or wild rice. This dish is very versatile (you could even add bacon).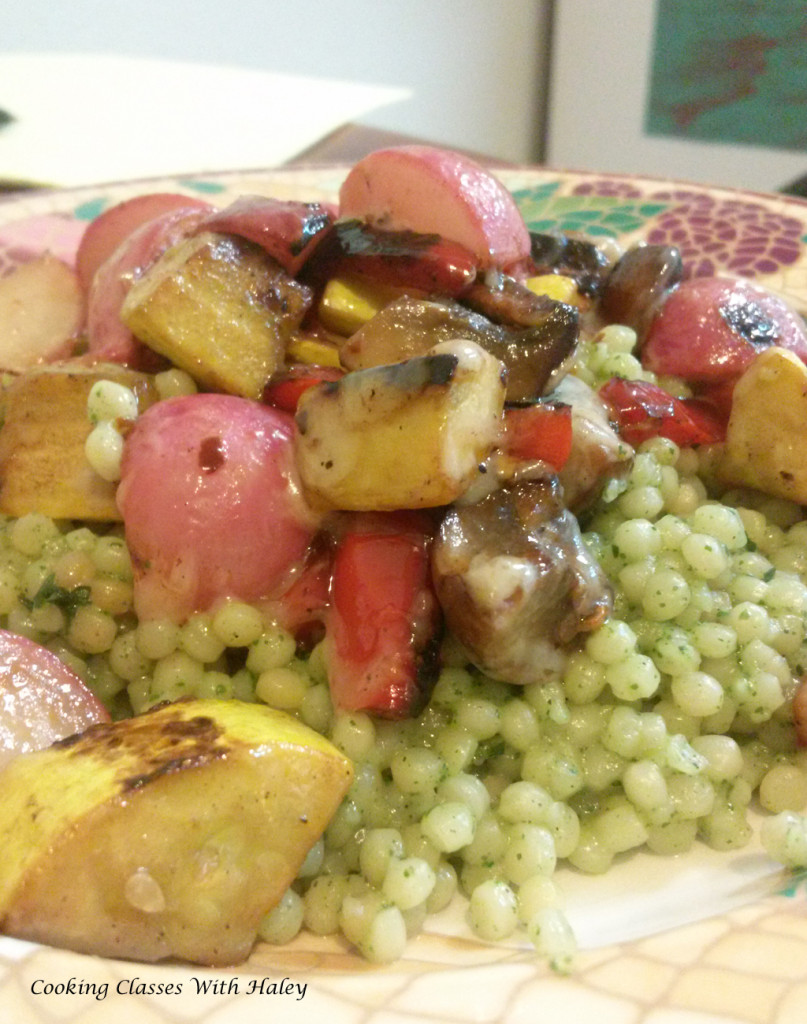 Cheesy Mediterranean Vegetable Saute
1 tbs Safflower oil
1/2 medium red bell pepper, 1/2 inch dice
4 cremini mushrooms, quartered
6 radishes, quartered
 1/2 yellow squash, 1/2 inch dice
1/2 tsp kosher salt
1/4 tsp fresh ground black pepper
1/4 tsp red pepper flakes
1/4 tsp  dried ground oregano
1/4 C. fontina cheese, grated
Heat a medium saute pan (saute = straight sides) over medium heat. When the pan is hot add 1 tbs of Safflower oil.
Add the bell pepper to the pan and cook for about 5 minutes stirring occasionally.
Add the mushrooms and turn the heat up to medium high. Season with salt and pepper. Cook 5 more minutes stirring occasionally.
Add radishes, squash, red pepper flakes and oregano. Cook 5 more minutes stirring occasionally.
Turn the heat off. Sprinkle the fontina over the vegetable saute. Serve over couscous, pasta or rice. Garnish with finely chopped parsley (optional).