I'm often asked how to use the turnips and radishes in CSA boxes. It seems these little guys have developed a bad reputation from the old days when varieties often had so much bite that they had an almost unbearable bitter taste.
Friends, I'm here to tell you these hardy root vegetables have changed their ways! They are packed with nutrition and, when harvested at the appropriate time, have delicious, sweet and slightly spicy flavors that can be complimented very well with the right accompanying harmony of flavors.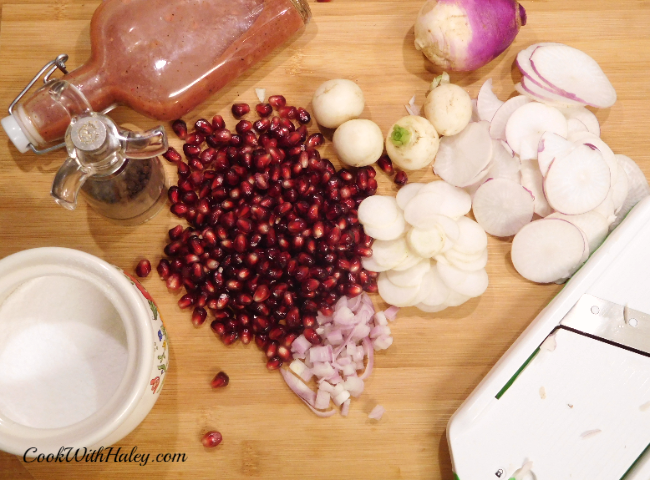 In the past, people often cooked turnips and radishes for hours to take the bitterness out. There are plenty of great recipes for cooked turnips and radishes, but today I'm suggesting you step out of your comfort zone and try these veggies completely raw. Gasp! Yes, I said it.
The trick to serving these veggies raw is to make sure the other ingredients you choose balance and compliment the existing flavors in the turnips and radishes. Since their flavors become more intense later in the season, this will require you taste them, uncooked and undressed, to see what flavors you're working with. Scary, I know, but if you dislike what you taste you have my permission to blame it on me. I can handle it.
You can most certainly follow the recipe below, but if you want to truly understand the food you're serving, try tasting it raw (when it's safe, of course).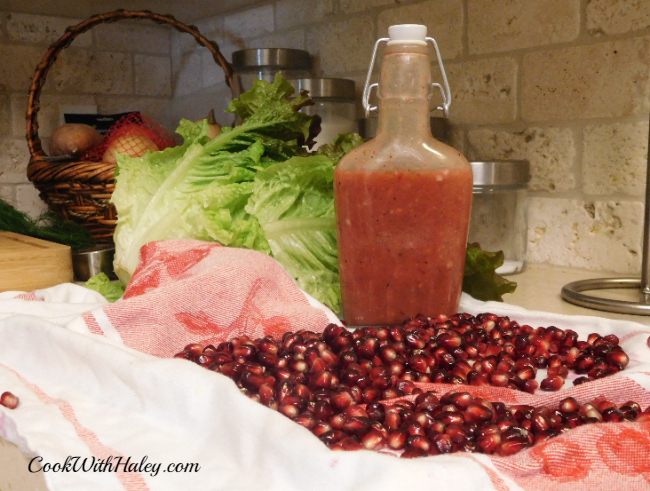 I chose pomegranate, whole grain mustard, and honey to complement the veggies in my CSA box from Green Gate Farms this week. Pomegranates arils (the little juicy seeds in a pomegranate fruit) have a sweet and slightly tart flavor that balances out the spiciness of a turnip.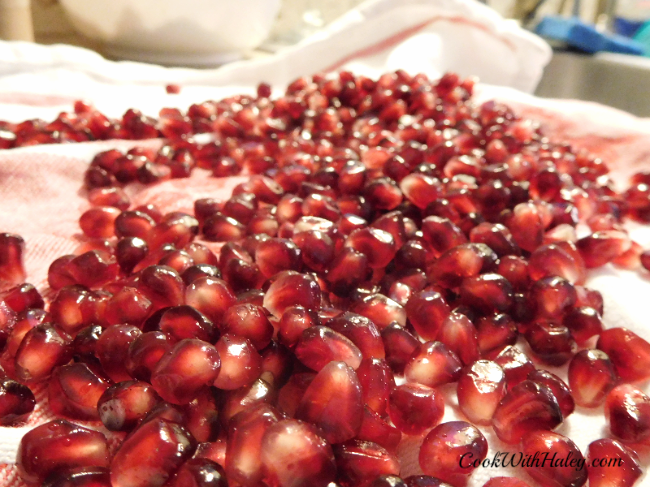 To harvest the arils from a pomegranate, simply score the outer skin from top to root making four segments then pull the fruit apart. Some arils will detach and fall out. Gently nudge the arils that stick to the pith until the fall out. Place the arils in water as they detach from the pith. Any remaining pith will float and the arils will sink.
This is actually a really great exercise if you're cooking with little ones. Not only is it interesting exploration of food, but it also teaches fine motor skills, focus, control and dexterity. If you're lucky they might taste some and like them! Don't worry if some of the arils become snacks; pomegranates provide plenty of arils for your dressing and salad and extras for snacks.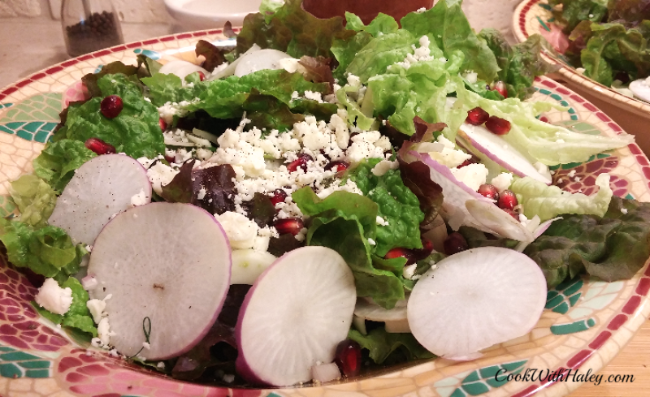 This winter salad was certainly a crowd pleaser I brought it to last night and I hope you all enjoy it this week as well!
Turnip and Pomegranate Winter Salad
Serves: 6-8
Prep time: 20 minutes
Cook time: 0 minutes
conjugally For Pomegranate Mustard Dressing
2 TBS Honey
2 TBS Whole grain mustard
2 TBS Shallots, minced
1/4 C Pomegranate arils
1/2 TSP Kosher salt
1/4 TSP Fresh cracked black pepper
1 C Extra virgin olive oil
http://spidercreative.co.uk/portfolio/solicitors-website/ For Salad
6 C Red leaf lettuce, washed, hard ribs removed, torn into bite sized pieces
1 C Fennel, sliced paper thin with mandolin
1 C Turnips, sliced paper thin with mandolin
1/2 C White radishes, sliced paper thin with mandolin
1 TBS Shallots, minced
1 C pomegranate arils, divided
3/4 C Feta cheese, crumbled
1/4 TSP Fresh cracked black pepper
In a food processor or blender, combine all ingredients for Pomegranate Mustard Dressing. Pulse until mostly smooth and emulsified. Small pieces of shallots is ok.
In two large salad bowls, combine lettuce, fennel, turnips, radishes, shallots, and half of the pomegranate arils. Toss for even distribution.
Garnish top of salad with remaining pomegranate arils, feta, and black pepper.
Serve salad dressing in a bottle or gravy dish on the side of this salad. Guests can dress their salad to their liking.