If you're looking for an amazing dish to please all the unique palettes in your house, these Beef and Potato Stuffed Red Peppers are the winner.
Sweet red bell peppers are par roasted to bring out even more of their sweet flavor and to make them tender and juicy.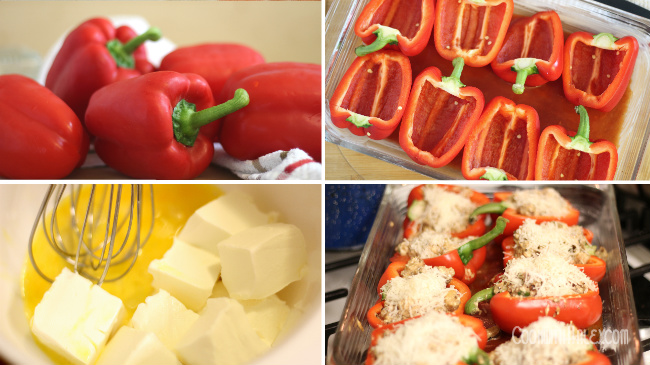 That sweetness is the first flavor you find when your bite into one of these peppers and it is followed up by the creamiest potatoes you've ever imagined.
Cream cheese…y'all, I can't explain the magic that cream cheese somehow performs on this dish.  It kicks the creaminess level up to 11. Sweet, creamy, beefy, cheesy. What's not to love?! Hey, if you present this to all your people (little and big) and they don't love it, don't sweat it, that just means there will be more for you.
Beef and Potato Stuffed Red Peppers
Prep Time: 20 minutes
Cook Time: 50-60 minutes
Serves: 4
1 tablespoon butter, room temperature
1 (8 ounce) can tomato sauce, divided
4 red bell peppers, cut in half through stem end, seeds and membrane removed
1 tablespoon olive oil
3/4 cup diced onions
1 cup diced golden potatoes
1/2 teaspoon kosher salt, divided
1/2 teaspoon fresh cracked black pepper, divided
1 pound ground beef
1 egg, whisked
8 ounces plain cream cheese, room temperature
1/2 teaspoon garlic powder
1/4 cup grated parmesan cheese, divided
1 tablespoon minced parsley for garnish
Preheat oven to 375. Grease the bottom of a  9X13 inch glass baking dish with butter. Coat the bottom of the dish with half of the tomato sauce. Arrange the bell pepper halves in the dish cut side up, cover with aluminum foil, and bake for about 20-25 minutes or until the peppers are slightly tender. Remove from oven and let them cool so they can be handled.
Meanwhile, in a large nonstick skillet bring olive oil to medium-high heat. Saute onions until slightly tender, about 5 minutes. Turn heat up to high and add diced potatoes. Season with 1/4 teaspoon salt and 1/4 teaspoon pepper and saute until potatoes are golden brown and just slightly fork tender, about 8 minutes. Move to a medium size mixing bowl.
In the same skillet sear the ground beef over medium-high until brown on all sides. Add to the bowl with the potato mixture.
Stir egg, cream cheese, garlic powder, remaining salt, remaining pepper, and remaining tomato sauce into the potato mixture. Be careful not to break up the potatoes.
Fill each bell pepper half with beef and potato mixture and arrange in the baking dish. Top each bell pepper with about 1 tablespoon parmesan cheese. Bake, uncovered, for 30-40 minutes, until filling is bubbly and parmesan is golden brown.