http://cumarefrigeration.com/shop/page/3/?orderby=price Pumpkins, gourds and squash pack incredible flavor ranging anywhere from deliciously sweet to rich and nutty. The trick is accessing that wonderful pumpkin "meat."
Três Coroas While we often refer to pumpkins and gourds as vegetables in the culinary world they are, in fact, a fruit because they have seeds in the center protected by a thick layer of flesh and a rind or skin on the outside.  Because they are the plant's vehicle for spreading seeds, They are, by definition, fruits.
You have a few options when it comes to pumpkin meat. You could cut open your pumpkin and dice the whole thing up if the flesh is soft enough to safely get your knife through and you aren't interested in saving the outer shell to use as a serving vessel.
If, however, your pumpkin is very tough to cut through or you want to keep it mostly in tact, here are the steps to follow to roast a pumpkin.
Steps for Roasting a Pumpkin
Preheat your oven to 350 degrees
Cut your pumpkin or gourd in half. Remove the seeds and strings with a large spoon. If strings do not come out easily you can cut them our with a sharp paring knife. Reserve the seeds!
At this point you can season your pumpkin with either salt and pepper or with brown sugar if it will be used in sweet dishes.

Cut pumpkin in half or cut off top quarter to create a lid for a serving vessel.

Place your pumpkin cut side down in a baking dish lined with parchment paper. Add about 1/4 cup of water to the dish and cover the pumpkin tightly with foil.

Place your pumpkin cut sides down in a baking dish or sheet pan.

The time it will take to roast your pumpkin will depend on it's size. For a small to medium size pumpkin, roast for about 35 minutes. A larger pumpkin will take anywhere from 60 to 75 minutes. Roast until flesh is tender and can easily be scooped out of the rind.
To remove flesh from the pumpkin rind after roasting, score the flesh using a paring knife so that it can be scooped out in chunks. Use a large spoon, measuring cup or ice cream scoop to scoop the pumpkin flesh out of the rind.

Scoop pumpkin flesh out with a measuring cup, large spoon, or ice cream scoop.
What To Do With Pumpkin Seeds
Do not throw the pumpkin seeds out! I will say that again, Do NOT throw the pumpkin seeds out!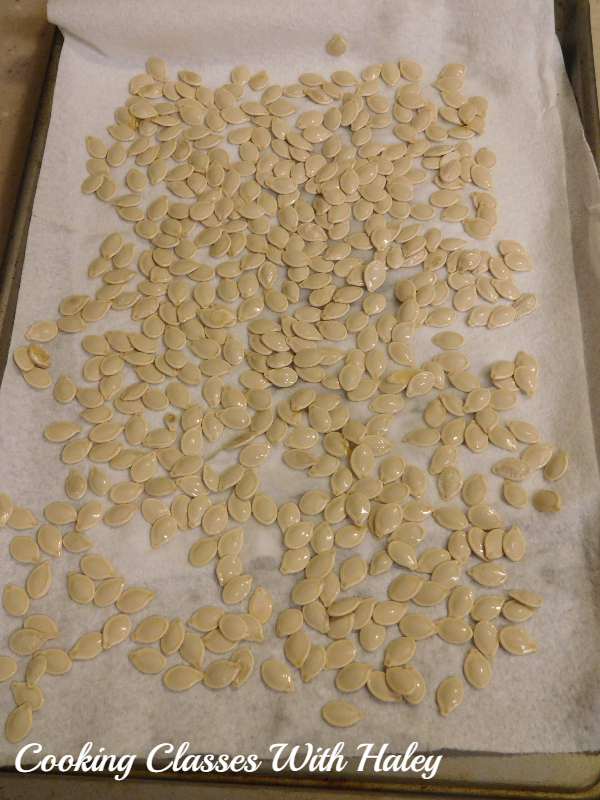 Remove any pumpkin strings and guts they are still clinging to. Spread the seeds out on a towel lined sheet pan and reserve them to make Roasted Pumpkin Seeds (a.k.a. Pepitas)!
Seriously, you will kick yourself if you skip this easy final step!