Last week I had the privilege of teaching a kids cooking class to the girls at The Settlement Home, a children's agency in Austin. The Settlement Home's mission is to promote healing and growth by providing a continuum of care, support, and resources. These classes are the most fulfilling work I'm doing right now.
I love writing recipes, testing and retesting them, and sharing them with you all here, as well as tasting the amazing food Austin has to offer for my Instagram feed @tastingatx. But none of that compares to the feeling I get when I see kids learn to feed themselves.
In addition to the Settlement Home I also teach small, private classes for boys and girls from age 9 all the way up through high school.
While teaching cooking classes for adults is wonderful and I am, of course, grateful for the work, there is something different about teaching children. It seems like most adults are self proclaimed "foodies" these days. They know everything already, or believe so anyway.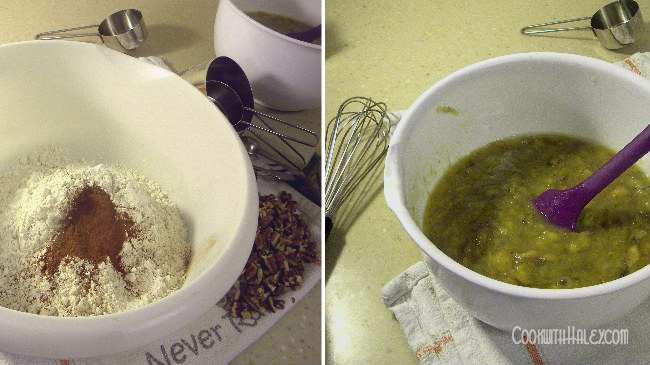 Kids, however, are like little sponges for information and are so excited when they hear they are going to actually cook in my class. No one is going to take what they're working on and shoo them out of the kitchen because they aren't master chefs at their first attempt!
Many of the girls living at the Settlement Home have not been given the chance to learn about food. Some were not taught how to cook.
They were not taught which foods are nutritious and healthful. They were not taught to question where their food comes from. They have not had the luxury of being choosey about what they eat. More than likely they were told they were not allowed to ask questions about the food they eat. They could have been made to feel that they were not worthy of having wholesome and healthy food.
The class I am currently teaching the girls is a Banana Muffin recipe that does not use granulated sugar as a sweetener. Instead, these Banana Muffins are perfectly sweetened by the sugars in the bananas themselves and a bit of honey.
I give the kids a few statistics about the amount of sugar added to things we eat regularly; things we consider to be "healthy" like yogurt and also things that the average tween craves, like sodas and candy bars. I break large groups into teams and one team physically measure out the amount of granulated sugar in each of these common foods. The kids are able to visualize how much sugar they consume in just one snack.
For some kids, a class like this could be the first time they've ever considered what's in the food they eat or where it comes from in a thoughtful way. I feel really lucky and grateful that I'm able to give this to these kids. My heart swells when I see a child realize they really enjoy cooking or hear one say they want to go to culinary school and cook when they grow up.
In any situation I find myself, I try to ask myself, "why have I invited this into my life? What am I supposed to learn from this?" Teaching these kids helps me to think more about what I'm teaching my son and my family about food. Do I let him explore in the kitchen? Do I let him try (and possibly fail) a cooking technique or do I take things away and finish them quickly just to get dinner on the table? Do I teach him about variety or do I say you will eat what I cooked "because I said so?" Do I teach him about balance?
Sometimes my answers to those questions are not what I would prefer.  As far as I'm concerned, there is only one practically perfect person, and since my first name is not Mary and my last name is not Poppins, I leave perfection up to the professional. Right now, I'm ok with being "good enough," and good enough means I'm aware of these questions and work toward a goal every day.
Enjoy your muffins!
Banana Muffins
Prep Time: 30 minutes
Cook Time: 20 minutes
Yeild: 30 muffins
8 or 9 very ripe bananas

2 egg, beaten

1 cup melted coconut oil

3/4 cup honey

3 cups all purpose flour

2 teaspoon baking soda

2 teaspoon ground cinnamon

1/2 teaspoon salt

1 cup chopped pecans

3 tablespoons chia seeds
Preheat oven to 350 degrees Fahrenheit with the rack in the middle. Line a 30 muffin tins with a liner in each cup.
In a large bowl, microwave bananas for 5 minutes and strain juice into a small pot. Microwave bananas again for 5 minutes and strain juice a second time into pot. Return bananas to the large bowl, mash with a fork, and set aside to cool.
Over medium-high heat, bring banana juice to a simmer. Reduce heat to low and simmer, uncovered, until juice is reduced by half, about 1/2 cup. A word of caution:  banana juice has so much fructose (natural sugar) that it's basically like cooking caramel. Watch it very closely to make sure it doesn't boil over. And for the sake of all that's good, DON'T LET IT TOUCH YOUR SKIN!
Return the banana juice to the bowl containing the mashed bananas, and add the http://iowabookgal.com/EspartoStudio,recycledbookart,bookpageprint,bookjewelry,reginasmith,reginasuhrbier/fort-dodge/ egg, coconut oil, and honey and stir to combine.
In a separate bowl, combine the http://garrygolden.com/css all purpose flour, baking soda, ground cinnamon, and salt using a whisk.

Using a rubber spatula or wooden spoon, fold 1/2 of the wet ingredients into dry. Stir until combined. Fold remaining half of wet ingredients into the dry. Stir until combined.

Fold in walnuts and chia seeds.

Spoon 1 heaping tablespoon of batter into each prepared muffin tin.

Bake at 350 for 20 minutes rotating the pans half way through.